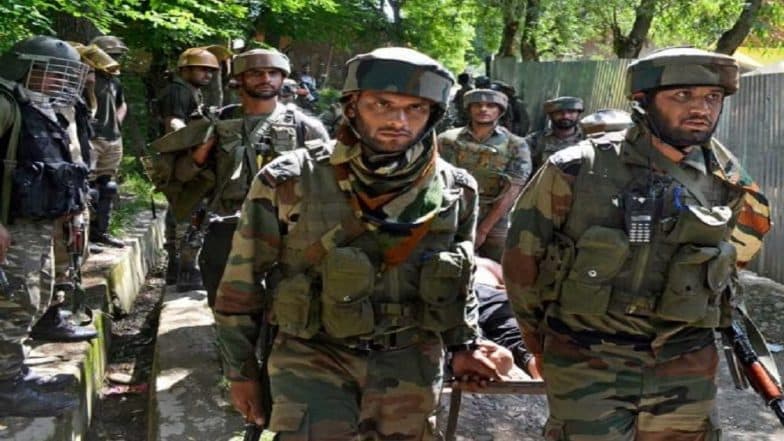 Police said the security forces surrounded Wani Mohalla in Khudwani area of Kulgam district for searches on Tuesday evening.
They said a gunbattle broke out between the militants and the security forces in the early hours.
Reports emanating from the ground said houses and shops were also set ablaze after heavy explosives were used to combat the militants.
There were clashes between protestors and security forces and 24 people sustained injuries, they said.
An Indian soldier was also killed during the clashes, KMS said.
The martyred soldier has been identified as Sepoy Sada Gunakara Rao. Four of them, identified as 16-year-old Bilal Ahmad Tantray, 28-year-old Sharjeel Ahmad Sheikh, 14-year-old Faisal Illahi and 30-year-old Aijaz Ahmad Palla, succumbed to injuries on way to or in hospitals.
This was strongly contested by locals who assert that the civilians were shot dead by the security forces determined to break up the street protests.
Man gets 10-yr RI for sexual assault on minor girl
Police registered a case of sexual assault under the Protection of Children from Sexual Offences Act (POCSO) against the man. Carlos Harper, 40, is said to have made the comment after lunging at the woman as she undressed to take a shower on Monday.
The Chief Minister said there is an urgent need to get together to get Jammu & Kashmir out of this vicious cycle of violence and killings.
Almost 50 injured persons having bullet, pellet and injures due to teargas shells have been admitted in various hospitals of south Kashmir and Srinagar.
Meanwhile, mobile internet services have been suspended in Kulgam and Anantnag districts of South Kasmir.
Student protests rocked Kashmir University in Srinagar, the Islamic University of Science and Technology in Awantipora in south Kashmir and Degree College in Bandipora in north Kashmir.
Senior separatist leader Mirwaiz Umar Farooq said Kashmiris were "left with no option other than to come out on roads" to protest.
The encounter in Kulgam today comes days after the Indian forces successfully neutralized a total of 13 Hizbul Mujahideen militants in a spree of encounters conducted on April 1.