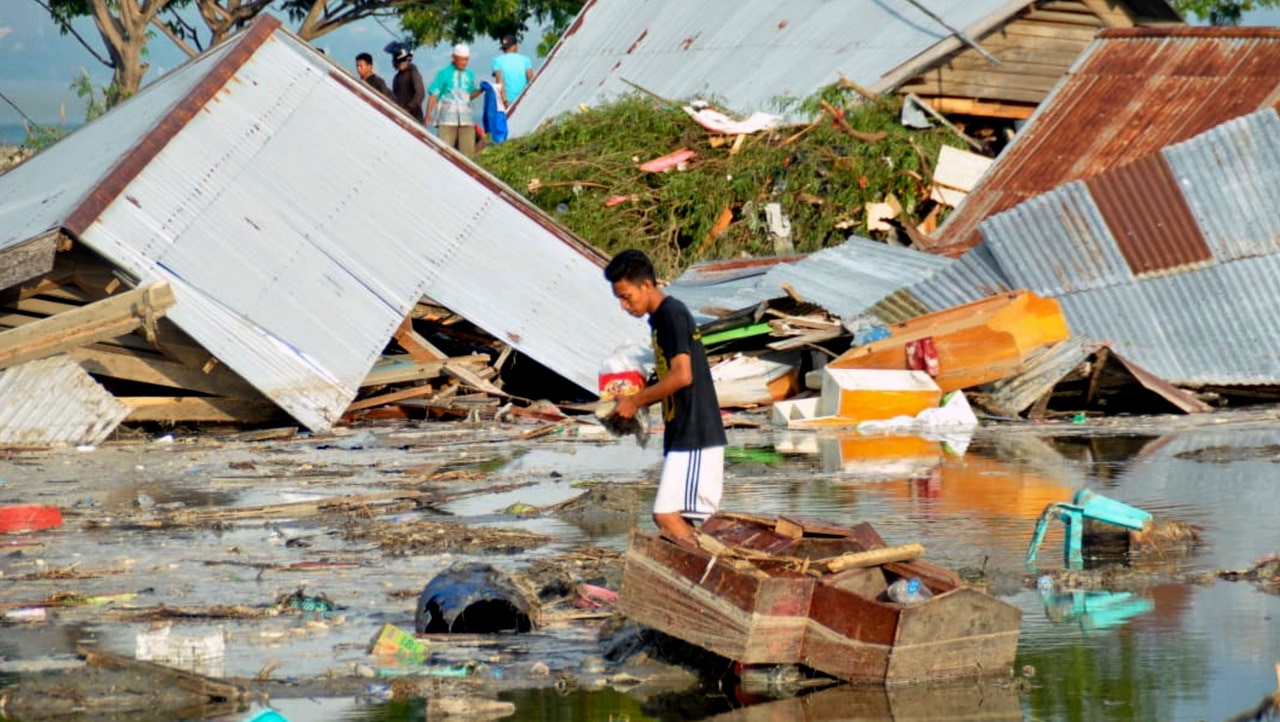 The death toll from twin disasters on the Indonesian island of Sulawesi, a major quake and the tsunami that followed, jumped to more than 800 on Sunday as rescue workers were only just starting to take stock of the wreckage - pulling out survivors buried under the rubble from a collapsed hotel, treating patients in tents and racing to get food and water to survivors.
Hundreds had gathered for a festival on the beach in the city of Palu on Friday when waves as high as six metres (18 feet) smashed onshore at dusk, sweeping many to their death and destroying anything in their path, following a 7.5 magnitude quake. Hundreds of people gathered at the wrecked eight-storey Tatura Mall searching for loved ones.
Scores of residents shouted "we're hungry, we need food" as soldiers distributed rations from a truck in one neighborhood, while elsewhere television showed pictures of people making off with clothes and other items from a wrecked mall.
The authorities are bracing for much worse as reports filter in from outlying areas, in particular, Donggala, a region of 300,000 people north of Palu and close to the epicentre of the quake, and two other districts.
Indonesian Vice President Jusuf Kalla told local media the death toll could rise to more than 1,000 people.
Many people are still believed to be trapped under collapsed buildings.
"We have heard nothing from Donggala and this is extremely worrying", the Red Cross said in a statement. Victims are being buried in mass graves, but all victims will later be "buried properly", Nugroho said.
The 7.5-magnitude quake struck Friday (Sept 28), sparking a tsunami that ripped apart Palu's coastline.
People loot a convenience store in Palu, in Central Sulawesi, on September 30, 2018, after a strong quake triggered a tsunami that struck the area.
Questions are sure to be asked why warning systems set up after that disaster appear to have failed on Friday.
Indonesia's meteorological agency has been criticised for its response but officials said the waves struck while the warning was in place.
Hurricane Rosa to Drench Mexico, US Southwest
The center of Rosa was expected to approach Baja California Monday, but is forecast to weaken to a tropical storm by that point. The center of the Category 3 storm was 625 miles southwest of the southern tip of Baja California, the NHC said in its 2 p.m.
"We grieve with our Indonesian brothers and sisters and stand hand in hand with them in praying for all of those who lost their lives in this tragedy", Cayetano said.
Dramatic video footage captured from the top floor of a parking ramp as the tsunami rolled in showed waves bringing down several buildings and inundating a large mosque. Reuters was not able to authenticate the footage.
"The casualties will keep increasing", said national disaster agency spokesman Sutopo Purwo Nugroho, whose agency announced 832 deaths.
But it's been hard to get around as bridges have collapsed and roads are blocked. "It is estimated that 50 to 60 people remain trapped". The agency was widely criticised for not informing a tsunami had hit Palu on Saturday, though officials said waves had come within the time the warning was issued.
Hospitals were overwhelmed by the influx of injured, with many people being treated in the open air.
Bodies covered in blue and yellow tarps lined the streets of Palu, while rescuers dug through rubble in the hopes of finding survivors from the twin disasters that struck Friday evening.
As Indonesia's President Joko Widodo heads to visit Palu on Sunday, the scale of the earthquake's destruction is still unclear.
"If he needs our help, he'll have it", Mr Morrison told the ABC on Sunday. The military has started sending in cargo planes with aid, authorities said, from Jakarta and other cities, but evacuees still badly need food and other basic necessities.
This shopping centre was one of the buildings badly damaged.
Indonesia, a vast archipelago of more than 17,000 islands, is prone to earthquakes because of its location on the "Ring of Fire", an arc of volcanoes and fault lines in the Pacific Basin.
About 16,000 displaced people needed clean water, Nugroho said, while 540 were injured, many getting treatment in tents.